This is such a great week! Two guest reviews in one week! LOL :D All right, let's be serious. The following guest review is by Katie from Rhinoa's Ramblings. The book reviewed is Moon Called by Patricia Briggs! I hope everyone enjoys!

(psst- the week is not over, contest is ending on Sunday!)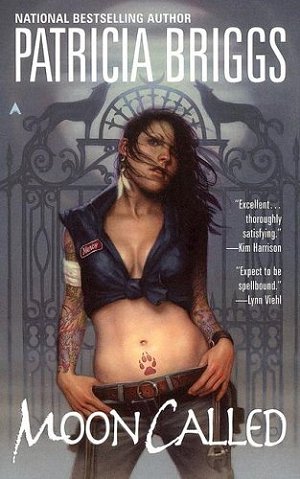 Moon Called - Patricia Briggs
Published by Ace Books, New York 2006

Rating: 4/5
Genre: Horror, Fantasy
Series: Book One in the Mercy Thompson series


Mercy Thompson's sexy next-door neightbour is a werewolf. She's tinkering with a VW bus at her machanic shop that happens to belong to a vampire.But then, Mercy Thompson is not exactly normal herself... and her connection to the world of things that go bump in the night is about to get her into a whole lot of trouble.
A new series by Patricia Briggs about Witches, Werewolves, Vampires and Walkers. Mercedes (Mercy) is a Walker and can transform into a Coyote at will who was mostly raised by Werewolves. Since growing up she became a car mechanic sharing a back wall with a werewolf and fixing cars for local vampire Stefan. Her life changes when a newly Changed werewolf turns up on her doorstep looking for work.There are obvious parallels with the books by Kelley Armstrong. Both have a female lead character, a variety of supernatural creatures, danger lust and love and a smattering of violence. It did retain some originality and I preferred the characters in this book as they seemed somehow more real despite the supernatural element. I liked the idea of Mercy being a Walker and the stories about the Fae coming out in public was interesting.
At times though it seemed the author was over complicating the plot. It seemed she was trying to cram in a few too many twists, turns and ideas and could have perhaps toned it down nearer the end a little. There were also a couple of discrepencies eg only Bran was supposed to be able to communicate with other werewolves but it seemed Mercy as a coyote and a couple of the wolves could talk to others of their kind as well as humans. It was a little unclear.Overall though I really enjoyed this book and will definately be reading the next in the series.